Alyssa Dennis
Invasive Apothecary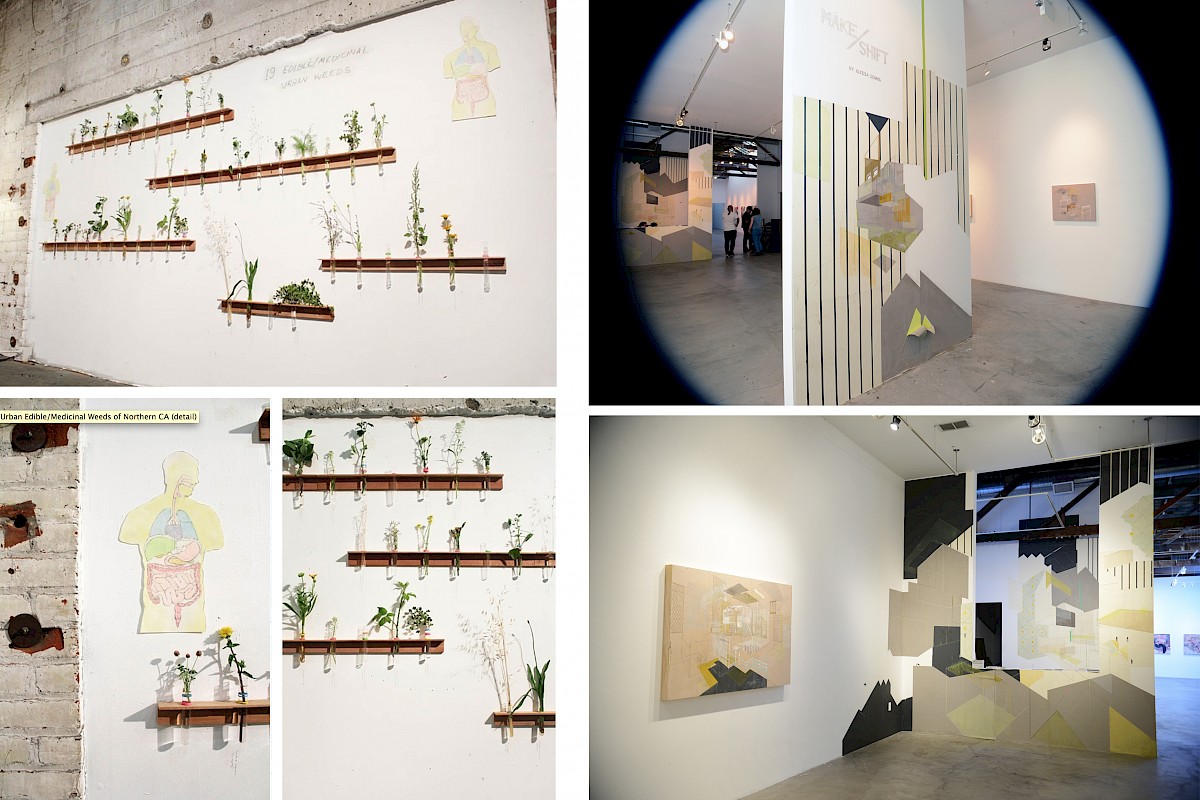 As an interdisciplinary artist, educator and trained clinical herbalist, Alyssa Dennis' practice has always been about how modern forms of building and convenience keep us compartmentalized within a dangerously abstracted relationship with nature and our own bodies. Her drawings of imaginal structures deconstruct how people engage with industrialized spaces and seek to inspire societal shifts toward green building and biophilic design, permaculture, and indigenous practices of land stewardship. Dennis' work is concerned with how manufactured landscapes have shaped and influenced our internal and external ecosystems and how that has, for better or worse, shaped our symbiosis with nature and ultimately ourselves.
While genetically-modified plants are touted as the solution to world hunger, GMO producers ironically market toxic chemicals to spray on viable food and medicine that thrive within our own neighborhoods. Humans have surrendered land management and ecosystem literacy to corporations at the cost of sovereignty and security over our own well-being. Dennis' response is the development of the Invasive Apothecary, which takes an intimate look at the top ten most-hated invasive plants listed by New York State and reveals how these 'nuisance' species have been used as food and medicine for centuries. Her intention is to have a direct conversation with the public about the negative language around these resilient plants and to demonstrate that harvesting our way toward biodiversity is key to ecosystem restoration. This work aims to turn the mirror on ourselves to reflect on how people too have become an invasive species while asserting that reciprocal re-engagement with nature is the solution.
For this spring 2020 exhibition, Dennis will be partnering with and launching this project at Sure We Can, an organization in Greenpoint that works with those struggling with homelessness to increase the rights and services of 'canners' who contribute significantly to decreasing ecosystem burdens of our city's waste stream. Similarly, invasive species like phragmites—labeled 'biological pollution'—are known to clean toxic chemicals from water but are eradicated or poisoned every year using millions of taxpayer dollars. Just as invasive/non-native/alien plant species are critically misunderstood, our city's canners, who are largely immigrant and people of color, are unfortunately viewed under a similar light. This project aims to change our perspectives of both canners and invasive plants to reveal how integral their contributions are in remediating the destructive wake of corporate industrialized business as usual.
Dennis will invite the public to engage and familiarize themselves with the shared missions of both organizations. The exhibition offers an opportunity to engage with local food and medicine and a platform to distribute educational material, and display botanical drawings and crafts such as dyed fabric, bee-houses, paper and basketry. It is a way for the public to 'meet and greet' both plants and SWC participants to truly see their guiding light. All of the medicinal plant material for this project will be sourced locally from safe organic venues. The legalities against harvesting from public parks and the toxic risk of consuming these plants in large amounts points to an important truth: If people understood the magnificent abundance of viable food and medicine within our own surroundings, they would see pollution and pesticides as a direct assault against our sovereign right to nourish and heal ourselves. Her ultimate goal is to inspire parks department and restoration ecologists to collaborate with herbalists and craftspeople in forging symbiotic and truly sustainable land management strategies that counter our negative rhetoric of invasive species and the throwaway culture of people and plants. This grant will fund the exhibition and events at SWC as well as exhibitions and events at other Brooklyn venues.