Fist and Heel Performance Group
"Power"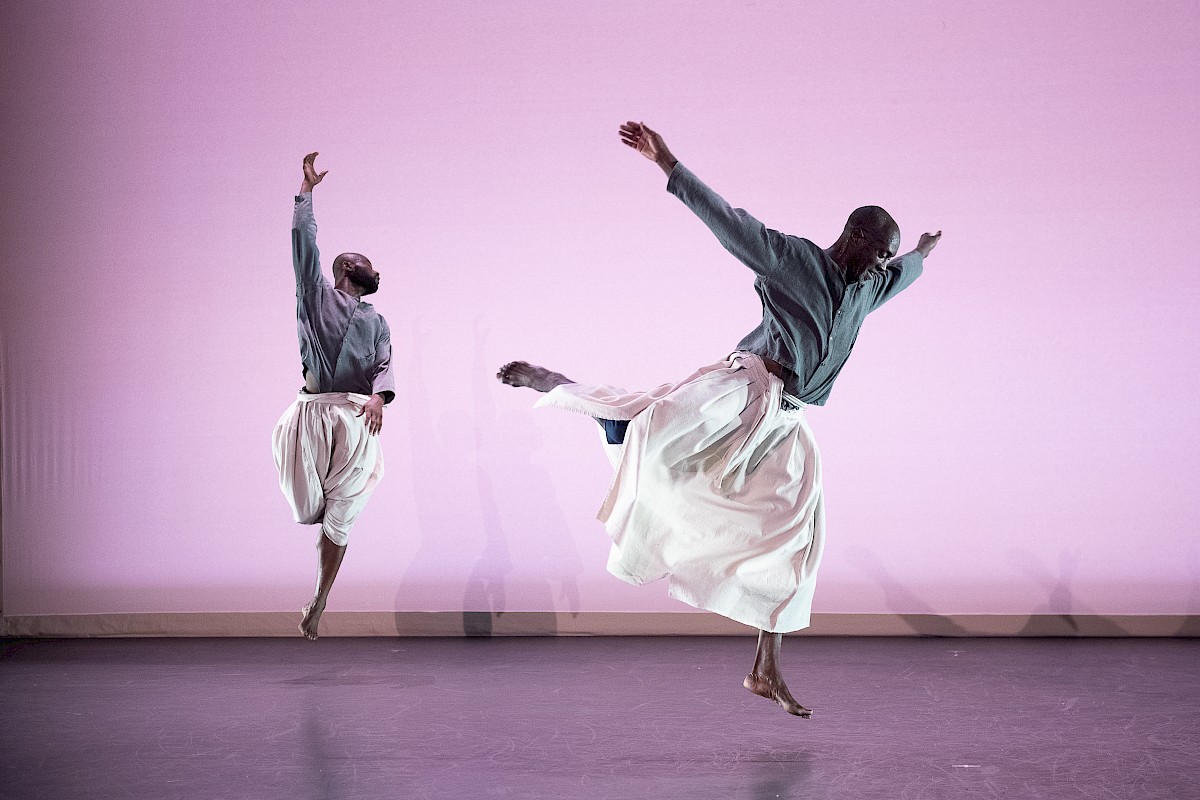 The mission of Reggie Wilson/Fist & Heel Performance Group is to make post-modern dance performances that encourage observation and curiosity of the spiritual and cultural traditions of Africa and of the African Diaspora. Drawing inspiration through research of movement idioms of Blues, Slave, and Gospel cultures, Reggie Wilson/Fist & Heel Performance Group creates works that are part of the dialogue and on-going investigations on how much of what came out of Africa affected and influenced world evolution and that this influence is still true today.
Reggie Wilson's new dance performance work reimagines compelling core Shaker values, contributions, practices and histories through a postmodern American lens. This work builds on Wilson's investigations related to the early evolution of African American spiritual worship in the pantheon of American Christian religions and expands on his research into ring shouts and African American worship. Points-of-inspiration for this work include black Shaker Eldress Mother Rebecca Cox Jackson, Shaker foundress Mother Ann Lee, The First Great Awakening and American Utopianism, Binary Opposition, and foundation research from his work The Littlest Baptist.
"Power" is created with eight dancers, three vocalists, a lighting designer (Jonathan Belcher) and two costume designers (Naoko Nagata, Enver Charkatash). Approximately sixteen artists are directly involved and benefit from the creation, presentation, and touring of this new work, tentatively scheduled for 2023.
Key questions inspired the creation of "Power": What would the worship of Black Shakers actually have looked like? How were the general, core Shaker tenets of "heaven on earth" realized (social activism, pacifism, gender equality, celibacy, and the confession of sin)? What are our misunderstandings about Shakers?
These questions obsessed Black leader Eldress Mother Rebecca Cox Jackson and Shaker foundress, Mother Ann Lee. Both women, leading followers in 17th century America, where one wouldn't assume there were women in such key positions. Very limited documentation exists on specific black Shaker practices (pre-Civil War and Industrial Revolution America) but Wilson's research seems to indicate correlations of Africanist retentions with Shaker beliefs and practices. These might include beliefs in a dual-Godhead, formations/patterns in worship, Shout retentions, fractal movement patterns, progressive thought and hard work, innovations, and advancements in technology as acts of worship.
Wilson's research has impacted the live vocal component and reflects research done on Shaker praise songs, Ring Shouts, Traditional African-American Church songs, moans, shouts, and Trinidad & Tobago Spiritual Baptist trance and possession vocal techniques.