Mary Griffin
Providence Productions International, Inc.
A revised and amplified version of "Recollections: Songs from Aphasias"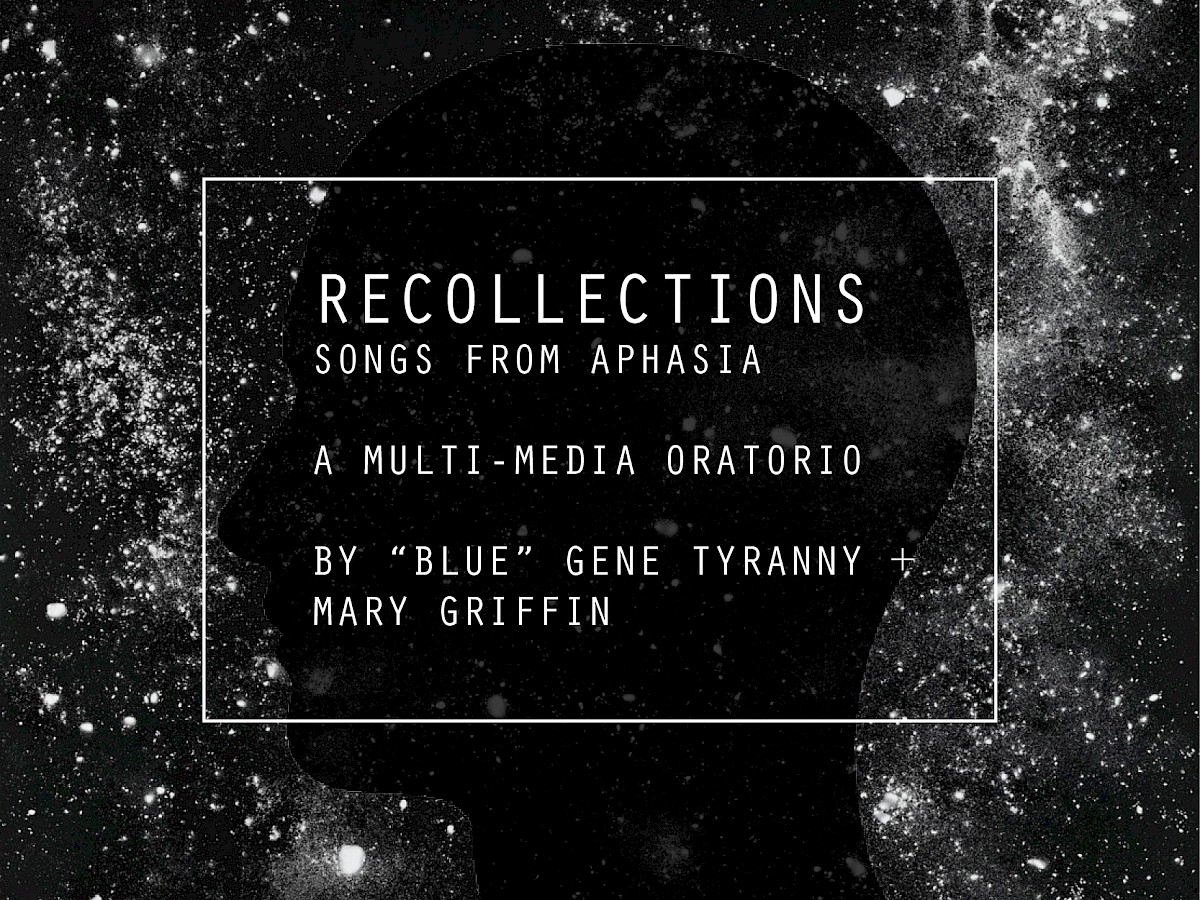 Providence Productions (PPI) supports experimental artists working in dance, music, theater, opera, electronic, and visual art. PPI raises commissioning funds, produces projects, and presents performances, and works with community organizations to bring the work to a larger audience.
Currently, PPI is revising, amplifying, and re-staging a piece originally presented in 2016 at Roulette. "Blue" Gene Tyranny and Mary Griffin collaborated on this multi-media oratorio which draws its inspiration from the Aphasians — people who lost their ability to speak as a result of traumatic brain injuries and who are reclaiming their memories and their language.
The piece is structured on a series of songs on the themes of memory, speech and heroic determination written by Griffin and scored by Tyranny for a string ensemble four singers
Staged within a video projection environment the songs are punctuated with videos of aphasia survivors. "You Are My Sunshine", a chestnut which the survivors sing repeatedly as part of their therapy, is a central musical theme, appearing in various modalities of American music — Appalachian, Jazz, and Cajun.
The two artists have a common interest in the nature of memory — the ways in which they see, hear, and comprehend the whole and its parts, the ways in which music and image build in the memory and how the event or object is transliterated (with varying degrees of accuracy) into language. Tyranny is renowned as a virtuoso pianist and one of the leading improvisers in contemporary experimental music. He has written extensively about the art of improvisation and the necessary, but necessarily imperfect, role of memory in compositional improvisation not only for the composer, but also for the auditor. One of his works is called The Somewhere Songs / The Invention Of Memory.
Griffin's work is also concerned with the fallibility of memory, particularly in its historical forms. Two of the librettos she has written, Christina, Patron Saint of Psychiatrists, and Lovers and Sick Cattle, (composer Joe Hannan), examine the discrepancies of oral and written history, a desire for facts, a parallel love of fiction, and how the myth can in fact become a political and personal reality. Her most recent work, Coincidents, an opera written with composer at Leroy Jenkins, develops these ideas in tracing family legends within the historical and political canvas of migration and diaspora.
A colleague of the artists suffered a traumatic brain injury that affected her memory and her use of language. For several years she has been in therapy and has made an astonishing recovery. Her memory is almost intact; her speech and syntax are perfect, her vocabulary is extensive.
Tyranny and Griffin became intrigued with these techniques which teach aphasia sufferers to activate the right side of the brain and to sing their thoughts — to recover language through music. People who cannot speak can sing. These techniques have become increasingly used as therapy for aphasia at major hospitals.