Elina Akselrud + Camille Fonteneau
Un Soiree Francaise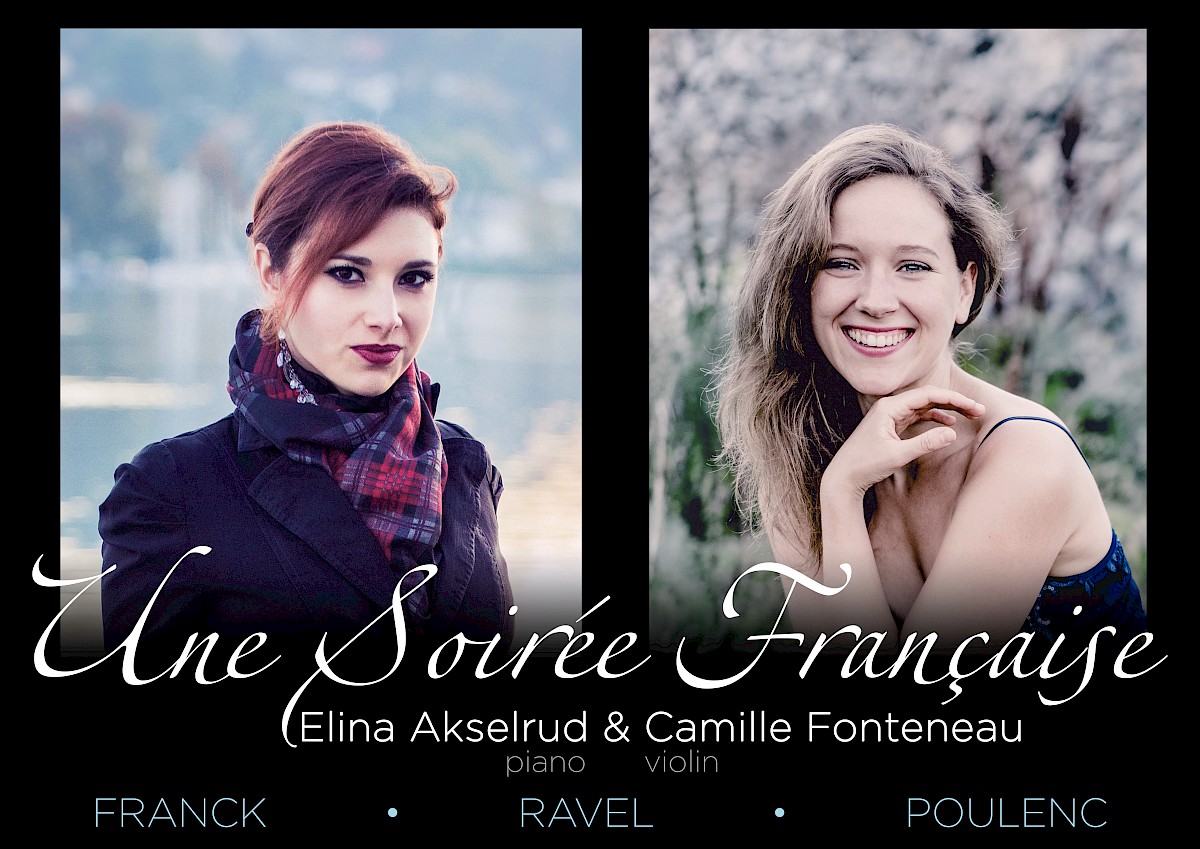 This chamber music duo project is a collaboration between Elina Akselrud (piano) and Camille Fonteneau (violin). We are both classically trained musicians with a worldwide performing experience. The repertoire includes Sonatas for violin and piano by César Franck, Maurice Ravel, and Francis Poulenc. Our performance will take place at South Oxford Space (138 South Oxford Street, Brooklyn, NY 11217) on October 30, 2021.
American pianist of Ukrainian origin Elina Akselrud is the founder and artistic director of a multidisciplinary organization "Intertwining Arts", as well as the lead artist of all its crossover projects. Elina Akselrud's current activity consists of performing as a solo and chamber musician. Elina has performed in numerous countries in Europe, as well as in Australia, New Zealand, and the United States. Since 2016 she has been concentrating on expanding the concept of a piano solo recital by collaborating with artists from other genres and simultaneously blending music with theater, photography/video projection, live painting projection, dance, lighting art, and 3D projection on stage. Each project is an artistic research embodying either a historical, philosophical, or a sociological message. Elina Akselrud also actively performs themed chamber projects, including premieres of commissioned works.
Founding member of the Helios Trio, a French-American violinist Camille Fonteneau mainly devotes her life to Chamber Music. Camille has performed in halls such as the Philharmonie de Paris, the Berlin Philharmonic, Salle Cortot, Phoenix Hall in Osaka, and international festivals such as La Roque d'Anthéron, Festival d'Evian, Festival des Arcs, Les Folles Journées (Warsaw, Nantes, Tokyo), Les Voûtes Célestes, Festival Enescu of Bucarest, Festival de Chaillol, Festival de Giverny. Her trio has been awarded several prizes during International Competitons (Trondheim, Lyon, Weimar) and is supported by the Safran and L'Or du Rhin Foundations.