Tatiana Arocha
"Impending Beauty"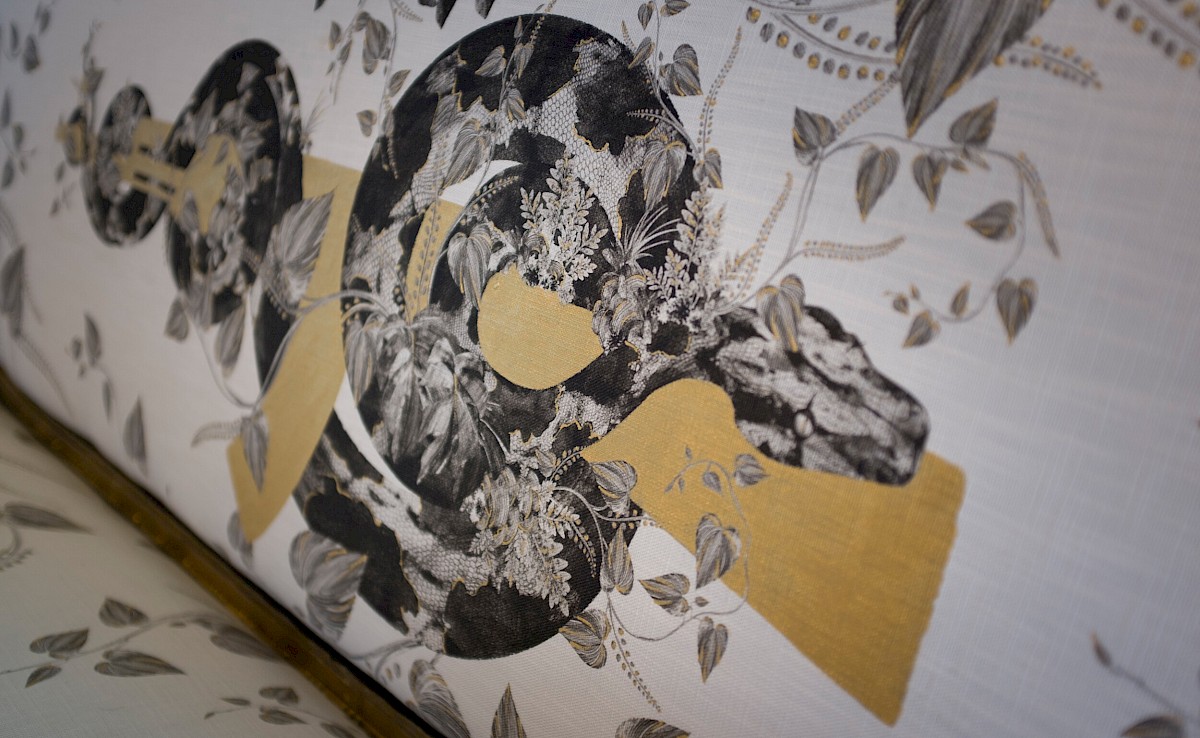 'Impending Beauty' is a site-specific installation that engages visitors in issues of environmental conservation. Every surface bears imagery of all-engulfing tropical forests, presented in black and white and hand-painted with gold details. Upon closer inspection, each piece reveals a contrasting visual narrative on human exploitation of the land by employing hidden and overt imagery connected to human conflicts.
Taken as a whole, 'Impending Beauty' interrogates humanity's instruments of aggression as well as those luxurious, 'civilized' artifacts and furnishings that hold so much material value but exist purely as a result of the heedless ransacking of natural resources. Within this space nature prevails, both in the flora and fauna recolonizing their sacred spaces. The work looks to remind us about how our local choices have far-reaching impacts on other ecosystems. But even while presenting themes that are challenging or distressing, 'Impending Beauty' seeks to intimately connect shared ecology with our personal relationships to land.
'Impending Beauty' will be presented from June through September at BioBAT Project Space, the first-floor exhibition area within BioBAT Art Space located at The Brooklyn Army Terminal. BioBAT Art Space was created to bring innovative Contemporary Art, Science, and Educational programming to Brooklyn that is accessible to all.
Tatiana Arocha (1974) is a New York-born Colombian artist, living in Brooklyn on Lenape ancestral lands. Her art practice explores intimacy between people and land, rooted in personal memory and her immigrant experience, and centers on community through public art interventions and transdisciplinary knowledge exchange. Most often, Arocha's works vivify and reconstruct the vulnerable tropical forests of her homeland, confronting the ecological, emotional, and cultural loss caused by extractive economies and colonial practices. In weaving together historical and contemporary technologies, Arocha's unconventional process and craft expresses her layered relationship with nature and cultural transformation.