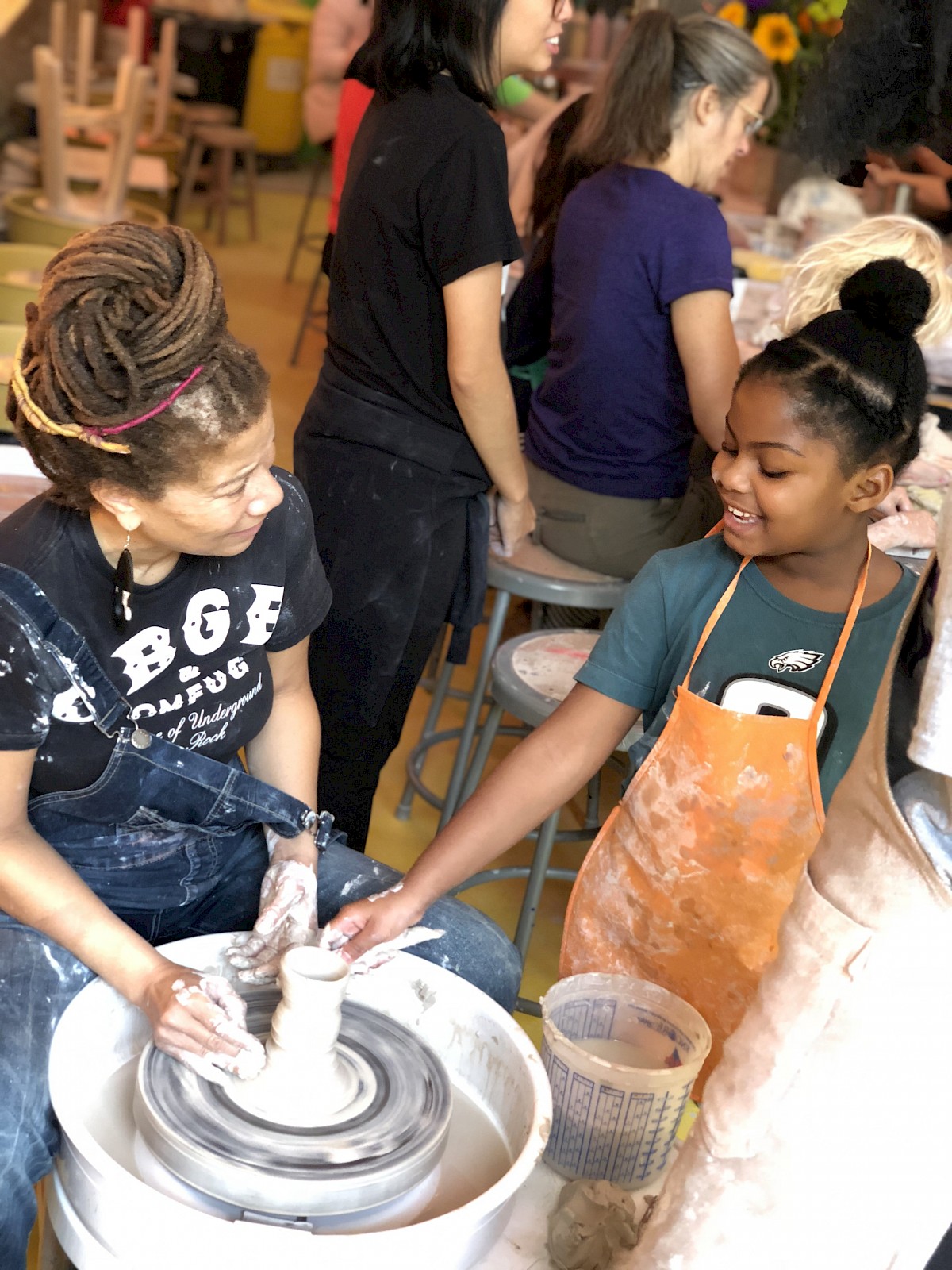 Founded in 2010 by two women artists with a belief that hands-on arts education strengthens critical thinking and encourages valuable life skills such as creativity, patience, and self-discipline, Artshack attained nonprofit status in 2016 and moved to Bedford-Stuyvesant. To engage and better serve long-time residents, who are being displaced by gentrification, Artshack began partnering with local Title 1 schools and community organizations to offer high-quality arts programming at highly subsidized rates or for free. Community Clay Days are crucial to the strategy of including these residents in their hub for arts education, the only nonprofit ceramics studio in Bedford-Stuyvesant.
Since 2017, Artshack has been opening the doors of its 2,500 square foot ceramics center on a busy commercial street in Bedford-Stuyvesant to local families and community members for free-of-charge Community Clay Days one Saturday every few months. Support from the Brooklyn Arts Council would allow Artshack to increase the frequency of Community Clay Days to once every month in 2020 and support the cost of materials, staff time spent coordinating and carrying out these events, and a stipend for the artists who lead the workshops.
From 10:00 am to 12:30 pm, up to 60 participants, who enter on a first-come, first-served basis, have the opportunity to experience the art of ceramics. They are given clay and access to tools, and are set free to roll, pinch, hand form, and shape on the wheel. A member of Artshack's teaching staff and a teaching artist, both of whom rotate, provide guidance, along with volunteers and working members, but the sessions are purposely left unstructured to accommodate families' ability to drop in and leave as necessary and to encourage a spirit of play and experimentation. Following open clay time is a 2-hour workshop led by the teaching artist for 12 participants. These workshops provide instruction in a specific technique in ceramic arts for those older children and adults who want more hands-on instruction, such as coil pots, hand-forming bowls, glazing, and so on. All attendees of both sessions have the opportunity to leave a piece to be fired and glazed (for free), which they can pick up in two weeks time.
Attendees reflect the neighborhood. A typical Community Clay Day is about 40-50% people of color, with ages ranging from 5 to 95. Novices and experienced ceramicists work side by side. In an area experiencing rapid gentrification and during a time of growing polarization and suspicion of "the other," Artshack provides a true community hub that brings people together through the healing powers of clay.
Community Clay Days allow individuals access to an art form that is often unaffordable. They also support the Artshack Kickback program, which provides scholarships to its afterschool and summer camps to students who would not otherwise be able to attend. Parents come in with their children and have the chance to meet the founders, staff and teaching artists and learn about the Kickback program, so they feel more comfortable signing up their children. Community Clay Days has helped Artshack to fill one-quarter of its afterschool and camp seats with children on full scholarship.