James Monaco
James & Jerome
The Conversationalists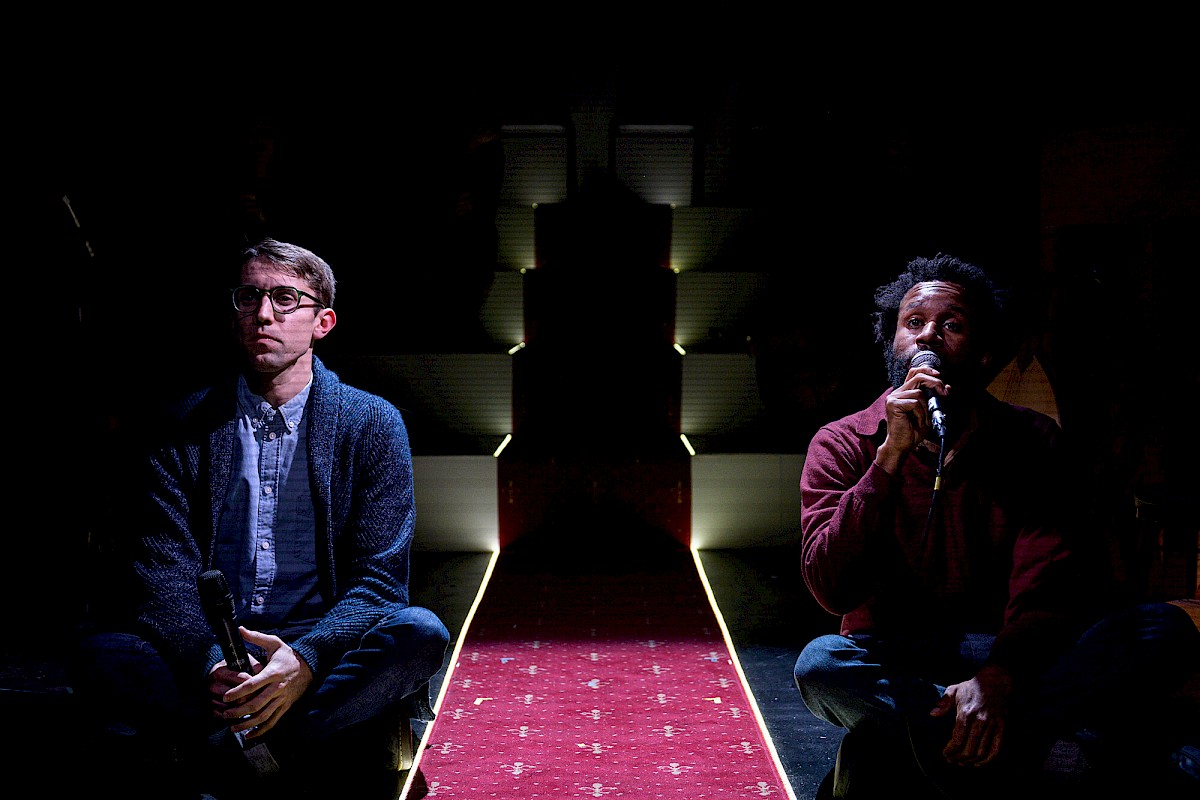 James & Jerome (James Harrison Monaco and Jerome Ellis) are a duo of musician-storytellers based in New York. They make hyper-literary, live-music story performances for theaters and other spaces. "The Conversationalists" is James & Jerome's first extended run of an evening-length performance. James & Jerome's work uses one of the world's oldest art forms—oral, musical storytelling, with a strong emphasis on improvisation—to explore themes like translation, disability, and intimacy across borders, whether geographical, racial, or religious. James and Jerome have been close friends since childhood, and their work also explores the interweaving of art and relationship.
In "The Conversationalists," James & Jerome continue their commitment to oral, musical storytelling to imagine a world where historically silenced voices and overlooked narratives are centered. The story focuses on characters who have undergone multiple immigrations, and the intimacies they seek with each other across linguistic and cultural borders. These themes are present throughout James & Jerome's work, specifically in "Ink," where Jerome speaks explicitly about his complex relationship to his stutter, in resistance against conventional, pathologizing treatments of disability. "The Conversationalists" is their most formally ambitious step forward in these explorations, and their first collaboration with a full band.
"The Conversationalists" is a performance piece that will receive its world premiere at the Bushwick Starr in January of 2020. It is an evening-length performance of a fully-scripted movie that the audience in the theater will never literally see. A performer playing the narrator describes for the audience a movie (written by James & Jerome) while the musicians play the fully-realized score to this film live. It is at once a play, a musical, a sort of radio-play, an epic poem, and a loving tribute to international melodrama films.
The piece is largely about the intimacies of meaningful communication, and connection across language, culture, and geography. In addition to English, the audience will hear Arabic and Spanish, both spoken and sung, with supertitles. James and Jerome are both professional translators and prioritize the intimacy that can be achieved between the audience and the characters by hearing the native languages of the characters. Additionally, rhythm in spoken language and polyphony are both major touchstones of James & Jerome's work, and "The Conversationalists" is a piece meant in part to celebrate, in form and content, the possibilities inherent in an increasingly poly-lingual Brooklyn and United States.