Laura Cuillé and Djanivka Pierre
DJ-Cuillé/ CapAble Collaborative
The World Through Art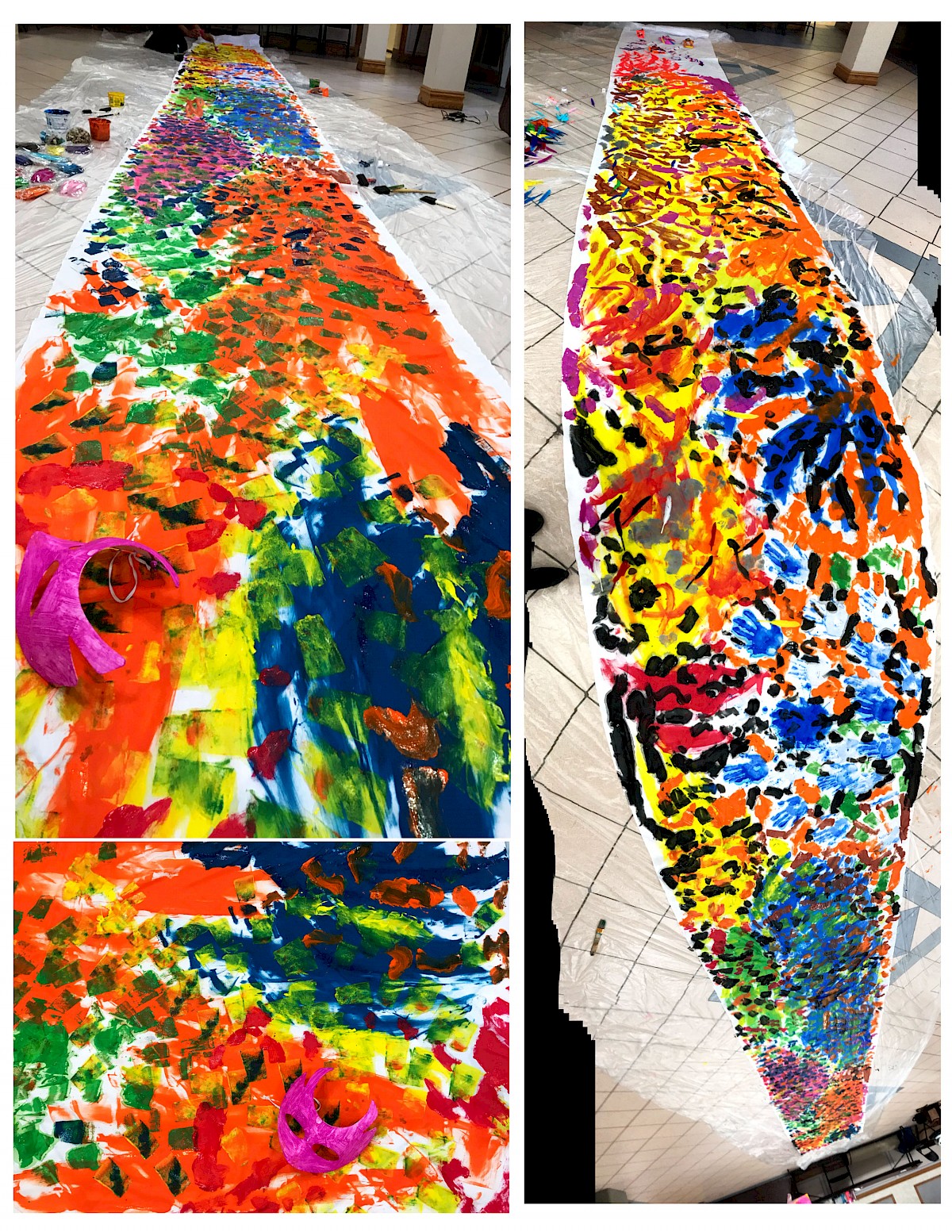 Laura Cuillé is an artist influenced by philosophical and psychoanalytical concepts working in combination with installation art, video, and sculpture. In her work, the human figure is found amidst metaphysical and conceptual worlds representing both timeless psychological struggles and universal freedoms. Djanivka Pierre is a 29 year-old nonverbal artist with developmental disabilities who expresses herself with simple, bold patterns and intuitive creativity using paints, feathers, pebbles, marbles, and many other materials. Working together, they transform spaces through a scenographic arts practice that fuses sound, light, movement, and form to create a physically immersive spaces.
Scenography is an art practice that fuses sound, light, movement, and form to create a full sensory installation or physical, immersive space. The goal of the project is to integrate the modality of scenography into the creative arts for individuals with developmental disabilities in order to explore and express the human psyche. By transforming spaces and essentially building miniature universes, one not only utilizes the soma (body) and psyche (mind) to create but also becomes immersed in the creation directly. In this manifestation, the psyche and soma are able to release energy by externalizing the internal.
DJ, like many artists on the spectrum, is primarily nonverbal and uses art to innovate a creative and highly personal language and form of expression, using a nonverbal context to be present, focused, and expressive. Through the course of the project, she'll work with Laura Cuillé, an experienced artist, in establishing a space to be transformed. The project will take place at main office of Mercy Home, 273 Willoughby Avenue, Brooklyn throughout 2020. Presentations will occur at Mercy Home and one other location to be determined.
In many ways, the timing is important. New research suggests that the diagnosis of autism is growing rapidly, particularly among Latino (73%) and black (44%) children. This project will present their work seriously. Individuals with developmental disabilities often struggle to tell us how they feel and what they're thinking. Creativity is their way of communicating thoughts, feelings, and struggles. The arts provide an important context to express inner worlds using colors, shapes, textures, and materials.
This project will engage and expand an audience for the community of gifted artists. In reaching out to a more diverse audience, the project will demonstrate that those who have special needs also have many talents and gifts. Each artists' work provides a vivid presentation to audiences. If we cross into their world, we gaze into an ambient world of shapes, colors, and ideas. The works offer a palate of orange, yellow, green, red—all complementing one another, while highlighting contrasts and simple shapes.