Maria Bauman
"Desire: A Sankofa Dream"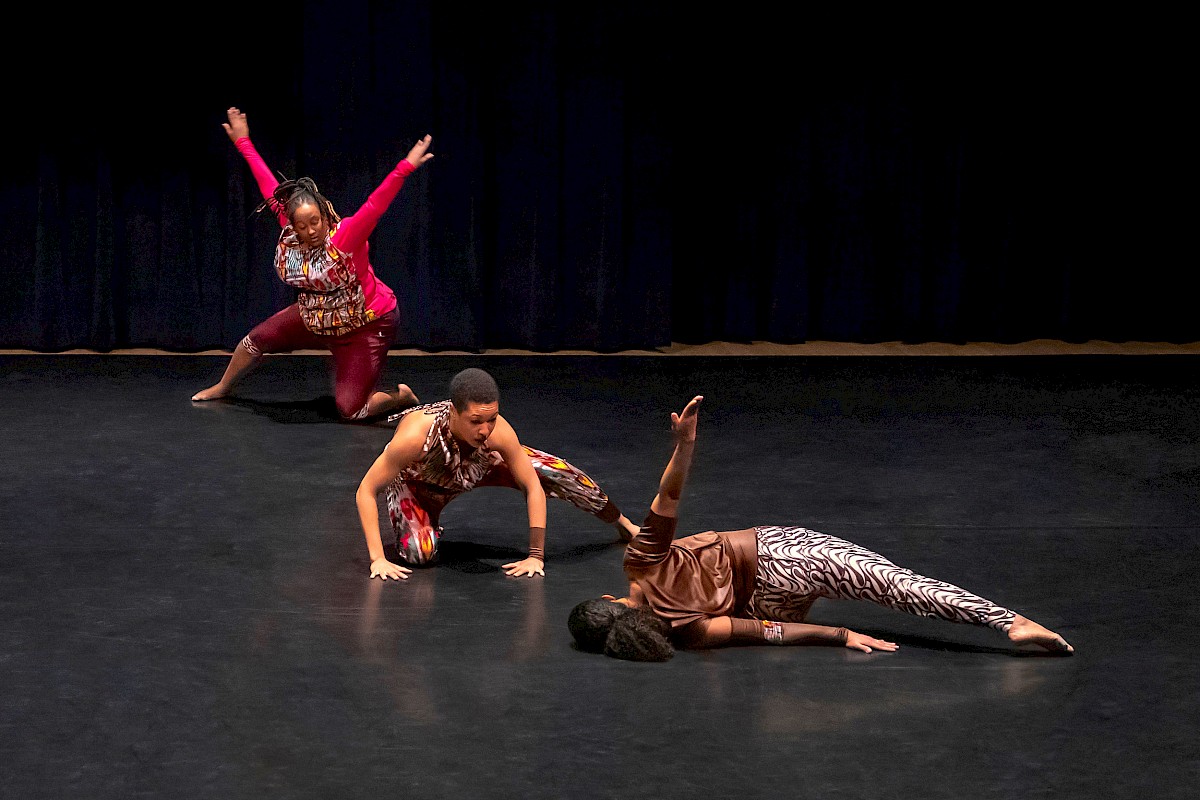 With "Desire," Maria Bauman builds upon her trajectory of developing hybrid work that transcends the proscenium, with interdisciplinary art in various spaces within the venue. Choreography charges the space but is interwoven with original text and strong visual design, areas within which she has been increasingly working over the last three years.
"Desire" embodies racial equity values she has focused on for over a decade as a community organizer with The People's Institute for Survival and Beyond and ACRE (Artists Co-creating Real Equity). With "Desire," Bauman centers non-linear stories and bodies of queer people of color without tragedizing or tokenization.
Muscles. Beads of sweat. Exertion. Inversion. Carving out selfhood. For Bauman, these images and ideas are linked. As a woman dancer, a person of color, a southern not-quite-belle who grew up poor, and a queer person, clear ideas of physical labor, beauty, and body presentation are each held in her every movement.
Bauman uses multiple genres to embody agency, including visual art, singing, writing, and her artistic engine: dance. The popular notion of a "neutral body," often described in contemporary dance classes, does not exist in her experience. Rather. she creates from storied bodies, mythological bodies, bodies-in-creation, and bodies-as-manifestos.
MBDance, Bauman's company, is sharing three pop-up performance excerpts from "Desire: A Sankofa Dream" at Brooklyn Museum's First Saturdays in June 2020 to celebrate LGBTQ+ Pride month. The three pop-up performances are spread throughout the evening in exhibition spaces and stairwells so museum-goers will happen upon the dance-, text-, and music-based performances in non-proscenium settings.
The events are free happenings attended monthly by 10,000 people hailing mostly from Crown Heights, Bedford Stuyvesant, Park Slope, and Flatbush. Brooklyn Museum is wheelchair-user-accessible and offers hearing assistive devices. Folks who may not purchase tickets to dance concerts or theater events show up as do dance and theater aficionados. MBDance's participation in the June First Saturday event is special and timely because "Desire: A Sankofa Dream" is a joyous representation of queer people of color, their imaginations, and their and bodies.