Valentina Kvasova
Russian Social Singing Club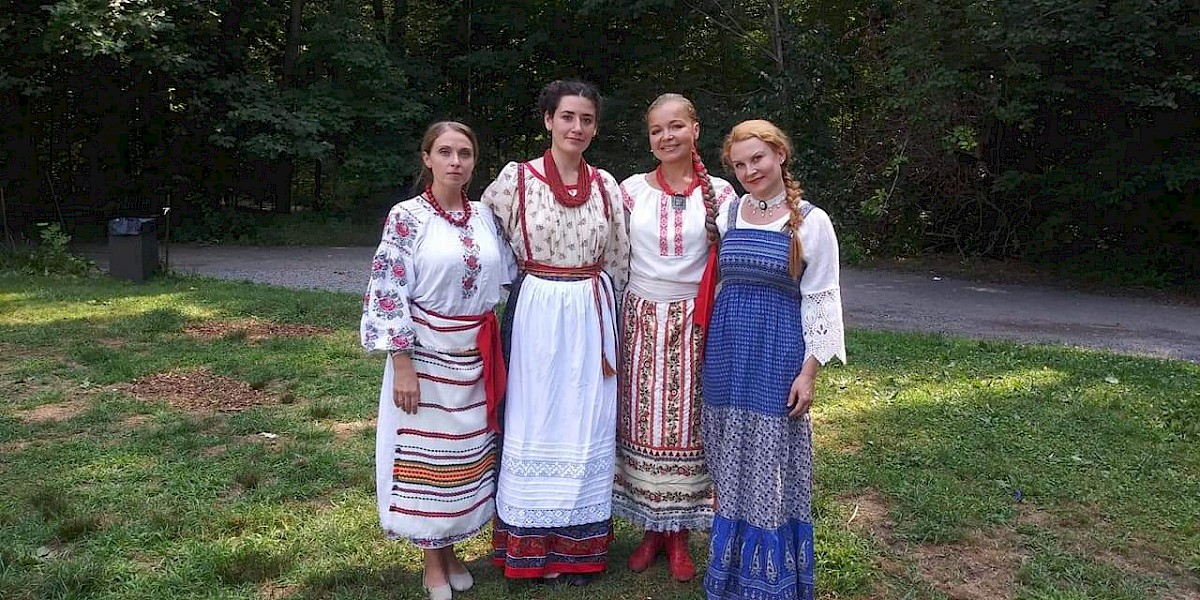 Valentina Kvasova is a professional dancer and singer specializing in Russian, Cossacks, Ukrainian, and Russian Gypsy (Roma) traditional styles. Born in Russia, in the city of Rostov-na-Donu, Cossack' s Capital of Russia, she performed with The Don Cossacks in Russia, Japan, Spain, Hungary, South Africa, and the USA. In the US, she joined Russian folk dance and music ensemble Barynya in 2004 as a dancer and singer. Her father was the Artistic Director of Don-Cossack Ensemble and her mother was the choir director. She draws on their large collection of recordings of traditional Cossack songs they collected in 1967 in Russian villages.
The Russian Social Singing Club is a collective for all interested in the Russian folk singing tradition that facilitates get-togethers every Tuesday at 6 pm at Valentina's house for "tea, songs, stories, folk wisdom, and positive vibrations from their grandmothers' ancient heritage." In 2020, these gatherings will lead to a series of three concerts. Already established, the informal gatherings are open to the public and attract amateur to semi-professional singers from various traditions and backgrounds in music. Most of the members are new immigrants from Russian, Arabic, Ukraine, Bulgaria, and Russian-Jewish backgrounds. Kvasova teaches them Russian folk songs and draws on the field recordings of her parents and teaches Russian and Non-Russian speakers how to sing the songs and pronounce the words properly. Her workshops teach them a variety of styles from different regions of Russia as well as the dialect associated with each song. For example, Cossack songs from the Don region are very open voiced, full of ornamentation, and strong-voiced. But Siberian songs are sung in a very high voice with a very different dialect. People from the Kursk region (Western) use tritone intervals and make music around a very different style that sounds more African. She also educates the RSSC about the coded meaning of lyrics that informed when enemies from the Battle of the Caucasus.
For teaching, Kvasova draws on the large collection of recorded material of traditional Cossack songs that her parents collected in 1967 in Russian villages. These folk songs were about war, work, weddings, funerals, harvesting, and falling in love. Her parents preserved them because in the Soviet Union, when a folk tradition existed in the villages, it brought the community together and touched their souls. The Communist Party, however, used this power of folk music and changed the lyrics to be about nationalism and communism.