Brooklyn Americana Music Festival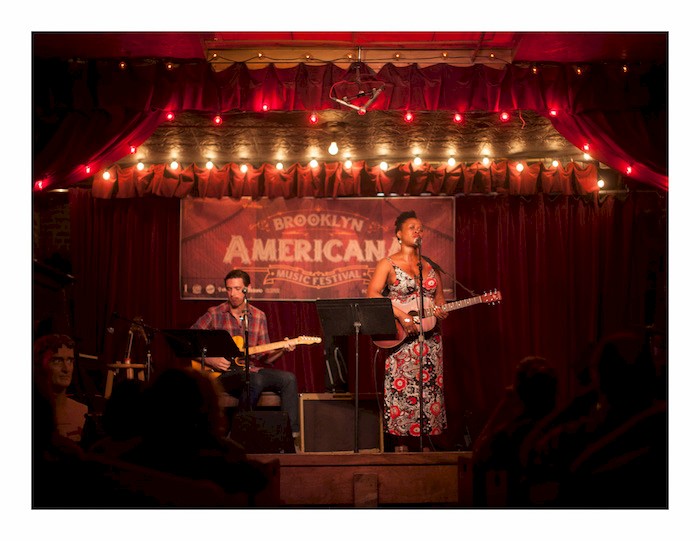 Brooklyn's thriving grass roots music community upholds traditional folk and original Americana by creating art in action made up of contemporary collaborative ensembles. The Brooklyn Americana Music Festival (BKAMF) presents emerging artists alongside established internationally touring artists, serving a diverse audience while entertaining young and old, long-term locals, new neighbors, and visitors to the vibrant and ever-changing waterfront.
Jan Bell, Artistic Director and Founder of the Brooklyn Americana Music Festival (BKAMF), curates an internationally-touring roster of Americana music to be performed at pioneer artist-owned and operated Brooklyn venues from DUMBO to Red Hook. The BKAMF exists because music is an international language and brings together old and young, newcomers, tourists, small business owners, and neighborhood employees.
In its sixth year, the BKAMF will bring over 250 musicians to nine stages for five full days of free music along the spectacular Brooklyn waterfront. Crowds of over 8,000 will include local, national, and international music lovers of all ages. Traditional and original songs will be played on fiddles, banjos, upright bass, guitar, dobro, mandolin and many more folk instruments from around the world and also of American folk origin and invention. Curatorial focus continues to program new artists alongside more established artists from Brooklyn and beyond.
For the past five years, the BKAMF has served as a free music festival for all ages. The Festival takes place at nine artist-owned and operated establishments along the Brooklyn waterfront, who regularly feature local and visiting artists year-round. The Festival is an opportunity to showcase these venues' weekly programming, and also provides a wider platform for curation beyond the usual line-ups. The BKAMF is the single live music event that has grown to encompass nine venues that are dedicated to the arts throughout the year. The BKAMF continues this tradition of commitment to the arts, presenting the live music that preceded the start of the development now taking place in Brooklyn's waterfront neighborhoods.
Since its beginning, The Festival has committed to elevating communities that lack performance opportunities within the Americana performance space. The 2020 BKAMF will see the return of the Women's Stage in Brooklyn Bridge Park, along with young-folk programming in the DUMBO Archway where teens perform on banjo and fiddle. For the third year, a recital by nearly one hundred adult students of the violin, guitar and cello will provide a space for the budding yet more mature Americana musicians. In 2018, the BKAMF was made of 70% female artists, turning the tables on the commonplace proportions that have long been the industry standard. In 2020, Bell plans to add a new stage exclusively for artists identifying as LGBTQ+.