Laurence Checler
The Story of Us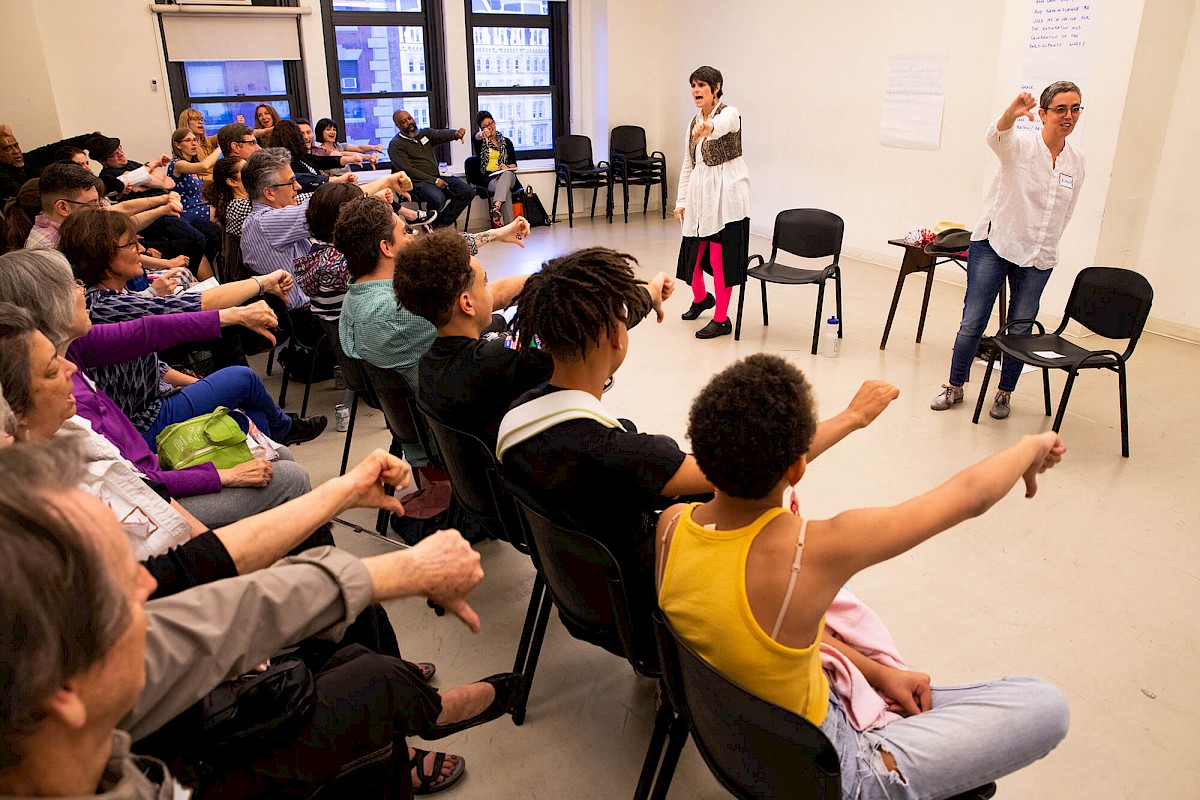 Laurence Checler is an actress, teaching artist, TimeSlips certified facilitator, and a believer in the power of theatre to build community. She has a special interest in offering creative engagement to older adults with dementia. Laurence offers theatrical workshops with an emphasis on interactive storytelling and reminiscence, using multi-sensory activities, focusing on sparking creativity and creating moments of joy. A recent recipient of a Masters in Applied Theatre degree from CUNY's School of Professional Studies, she has worked with school-aged children and teenagers in NYC's public schools, college students in Rwanda, and older adults in Brooklyn.
By age 85, 50% of Americans will have some form of dementia. As of 2016, the Center for Disease Control reports that 47.8% of nursing home residents are diagnosed with Alzheimer's and related dementias. Checler and her project partner Grace Schiraldi have a particular interest and have done significant research on dementia, Alzheimer's Disease, the use of the arts, and applied theatre in particular as a means of engaging with this growing population. They have researched past and current practices used by recreational therapists and art therapists. Current practices for recreational activities in long-term care settings are designed to reach as many residents as possible. They believe there is a need for increased individual engagement. They aim to provide small group, individualized engagement by customizing creative activities catered to each participant based on their lived experiences, interests, physical and cognitive abilities. They are not aware of any other program that addresses this residential LTC dementia population in a similar fashion.
The Story of Us will be a series of weekly workshops in which they will explore the participants' lives and legacies through storytelling, reminiscence, music, song, gesture, dance, and multi-sensory activities. We will include reminiscence theatre, scripted improv, TimeSlips, interactive storytelling as well as 'Get to Know You' activities. Their goals are to stimulate their imaginations, understanding that there are no wrong answers; to foster community among group members to establish a safe environment to share stories; to be silly and create moments of joy.
By drawing out personal stories (whether accurate, or drawn from conflated memories), participants will be able to share more of themselves with the group, staff and other residents. By documenting these stories (via poems, narratives, songs, and visual art pieces), they will create moments of joy for and between group members. Participants who have been diagnosed with dementia will be able to express their own sense of self-identity and self-worth. Having staff and other residents see and acknowledge residents' individuality, talents and personal histories will help to increase appreciation of residents' humanity.