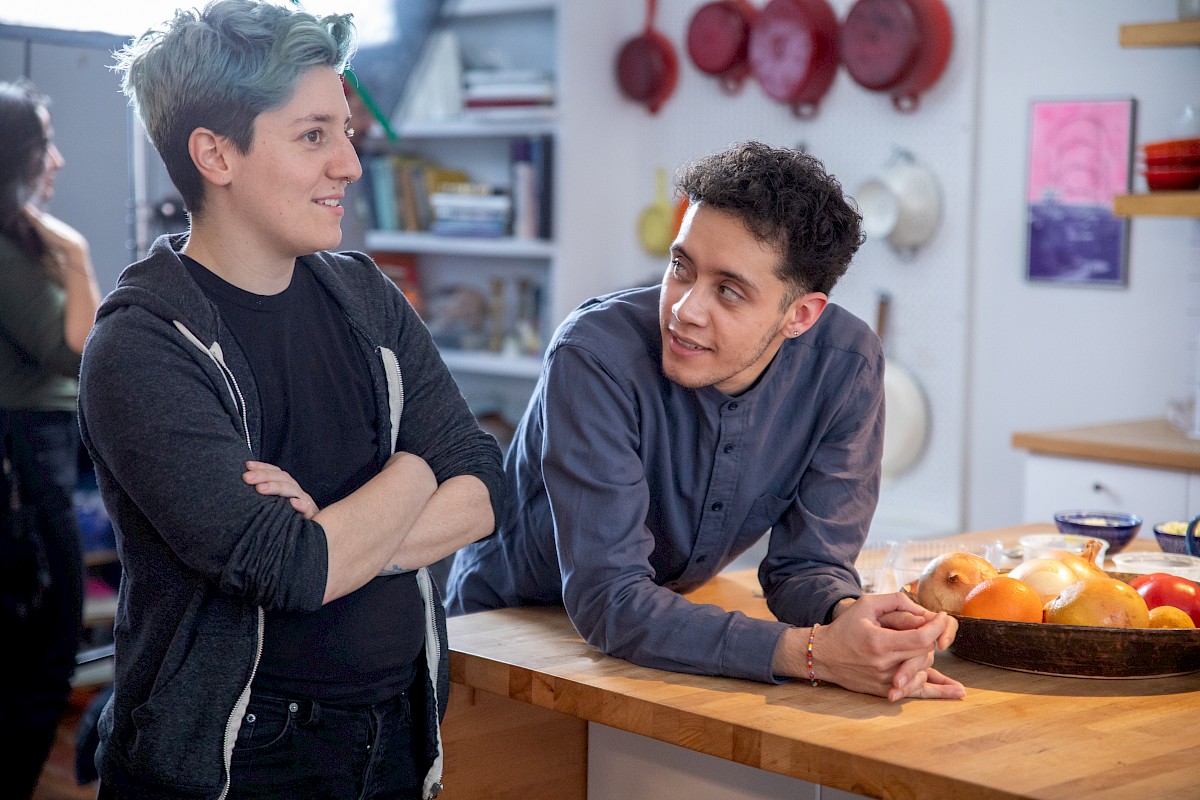 "Kind Of" is a short narrative film that follows two trans-masculine folks in a newly open relationship as they prepare to host brunch for their friends. When Aidan returns home from a hookup-turned-sleepover, his partner, Micah, presses him to share more about his desires for other people. As they spar and lay out an enticing brunch spread for their guests, Micah's insecurities concerning their non-monogamy spill out onto the breakfast table.
Schamus co-wrote this film with my own partner, Arno Mokros. As two trans, masculine-of-center writers in a relationship ourselves, they wrote this script to put true-to-life trans lives on screen, presenting a playful comedy that explores how things can get complicated in queer love. They wanted to touch on topics like masculinity, non-monogamy, and desirability, all while maintaining a sense of humor. While their ten-minute script presents a story of conflict between our two protagonists as they confront insecurities in their relationship as the action unfolds in real-time, Aidan and Micah always maintain affection for one another, and the film maintains an endearing and light-hearted tone.
Despite a veritable explosion in trans representation in mainstream TV and film over the past several years, the tea, is conscious of the fact that knowledge about trans people is still continually driven by shallow stereotypes. They remain aware that the subject matter of our film -- a trans couple in a polyamourous relationship living in Bushwick having a fight about the terms of their non-monogamy -- could even be perceived as the punchline of a joke about contemporary queer Brooklynites. They want to add nuance and dimension to what general audiences understand about queer and trans experience, while creating a film that resonates with the LGBTQ and polyamorous communities.