Sina Hickey
PaperGirl-Brooklyn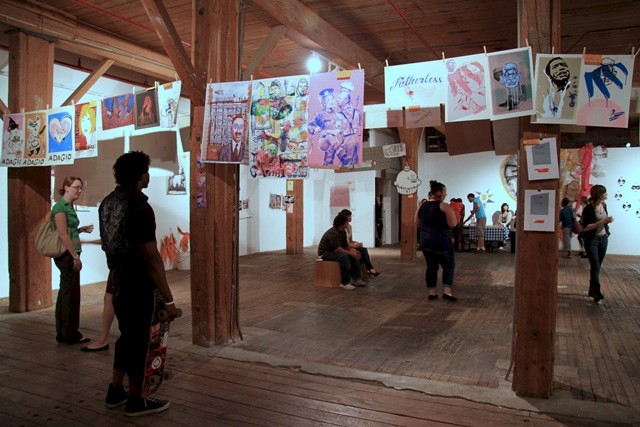 How does art enrich a community when it is kept nailed to white walls in sterile galleries which perpetuate institutional biases, economic privilege, and commercial gain? How can art excite a community to be involved, express generosity, and stay positive in a world of rejection and injustice?
PaperGirl-Brooklyn (PGB) is an art project where rolled up pieces of art are delivered in the style of paperboys to random people on the street. This project consists of workshops, an exhibition, and distribution. Artists and the neighborhood are welcomed to participate in all stages of the PGB project.
PGB will host drop-off events that coincide with art workshops in four Brooklyn neighborhoods (Bushwick, East New York, Sunset Park, Clinton Hill). Artists and community members will interact through workshop activities such as small screen prints, spray stencils, photograms, and bicycle repairs. At each event participants create things to take home that lead up to the main event, for example spray painted bike flags, screen printed canvas bags, and bike repair skills. These lead-up workshops encourage participants to participate throughout PGB.
This project motivates people to get out from behind their screens, desks, and doors to be active in the PGB community. Everyone can contribute artwork via a drop-off event or by sending it in the mail. All art that is rollable, high-quality, and noncommercial is accepted. Contributing artists gain exposure through the PGB website (every submission is documented and archived), on our social media platforms, and in the interactive exhibition where visitors are permitted to flip through and touch the varied art submissions.
The exhibited work is later rolled up (4-10 pieces of work per roll) and delivered in an energetic action where people on bicycles impulsively gift their rolls to passersby. By gifting the rolls to unexpecting pedestrians this project involves the public who might not seek out traditional art spaces to receive artwork and be a part of the project.
By embedding workshops in various neighborhoods leading up to the exhibition, the project engages more people and new audiences. These drop-off events will also increase the likelihood that local artists hear about PGB and feel inspired to participate in the action. Our political atmosphere has made people increasingly aware of segregation, separation, and injustice; this project embodies joy, generosity, and inclusion to join the arts community and the Brooklyn community in a unified action of giving and receiving.